Result
Sylhet Board SSC Result 2023 With Full Marksheet Number
Are You Looking For SSC Result of  Sylhet Education Board? Then Welcome To Sylhet Board SSC Result 2023 Details. There are Many Website and Way To Search Education Board Result in Bangladesh. You Can Choose Your Method one of The Below Which are Perfect For You. Whatever, Bangladesh Education Board Secondary School Certificate Exam Result Will be Announce on 28 July 2023. There Are Nine General Education Board who Took the SSC Exam. Bangladesh Madrasah Education Board Took Dakhil Exam Which Similar To SSC.
Dhaka Education Board, Barisal, Comilla, Chittagong, Dinajpur, Jessore, Mymensign, Rajshahi and Sylhet Education Board are the general Education Board in Bangladesh. All Board Results Will be Announced Same date and time. So, Sylhet Board SSC Result 2023 Will publish published on educationboardresults.gov.bd and eboardresults.com. Sylhet Education Board Students Also Can Search Their Result on Their Official Website.
Let's Go To The Right Section in…
How to Know Sylhet Board SSC Result 2023
However, Sylhet Board is The Smallest Education Board of Bangladesh among all Boards. Professor MD Abdul Kuddus is the Chairman of Sylhet Board. Students Can Get This Board Information by Visiting sylhetboard.gov.bd. Besides That, Students Can Check Sylhet Education Board Results from educationboardresults.gov.bd and eboardresults.com.
At First Visit Sylhet Board Result Publish official site eboardresults.com
Select your Examination Name "SSC/Dakhil"
SelectYour Exam Year "2023"
Then Select your board "Sylhet"
Select "Result Type"
Type Your "Roll number" and "Registration Number (Optional)".
Fill up The "Captcha Code" For Verification.
Click Here "Get Result" Button. After that, You Will Get SSC Result.
There are Couple of Methods To Check Sylhet Board Results. From Sylhet Board, Smallest Amount Students participates The SSC exam in 2023. However, You have To Wait 60 Days To know you Board SSC Result from Bangladesh Education Board.
SSC Result Sylhet Education Board
You Can Check Your SSC Result Sylhet Board by The Online. Now-a-days Most of Students and Guardian use Smartphone. So, They Can Check Their Result through Online. Online is The best ways For in Bangladeshi Students For Checking Result from Website. it is Very simple and easy Ways To Check Sylhet Board Results. So, Now Follow The Instruction Which Given Below-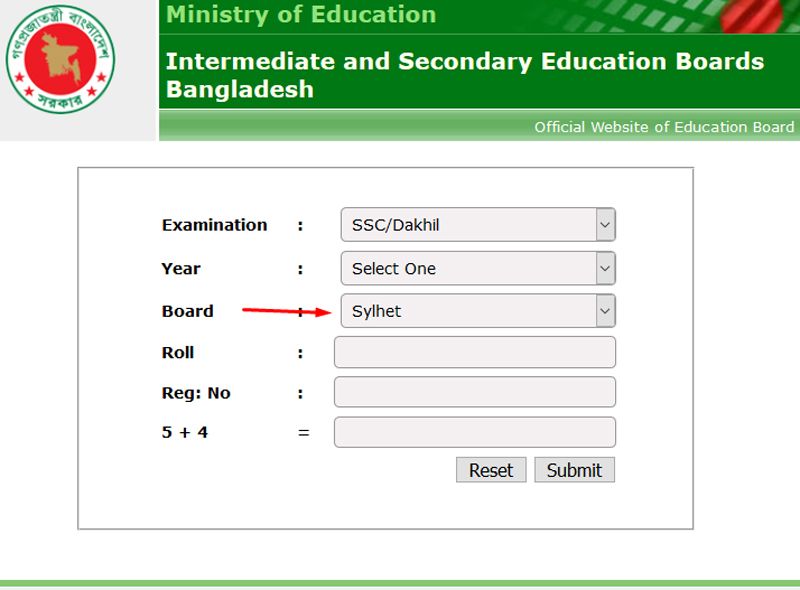 Sylhet Education Board SSC Results Via SMS
Bangladesh All SIM Operator Support To Get SSC Result by SMS. You Can Send SMS To 16222 Number To Get SSC Result on You inbox After Release by Education Board Bangladesh. Follow The Instruction below –
SSC/ Dakhil <space > SYL <space> 124421 <space> 2023 to 16222
So, Hope You Find You Sylhet Education Board 2023 SSC Examination Results All Details. if You have Any Question, Just leave it by Doing Comment.