School Admission
GSA Result 2022 (gsa.teletalk.com.bd) Non Govt School Admission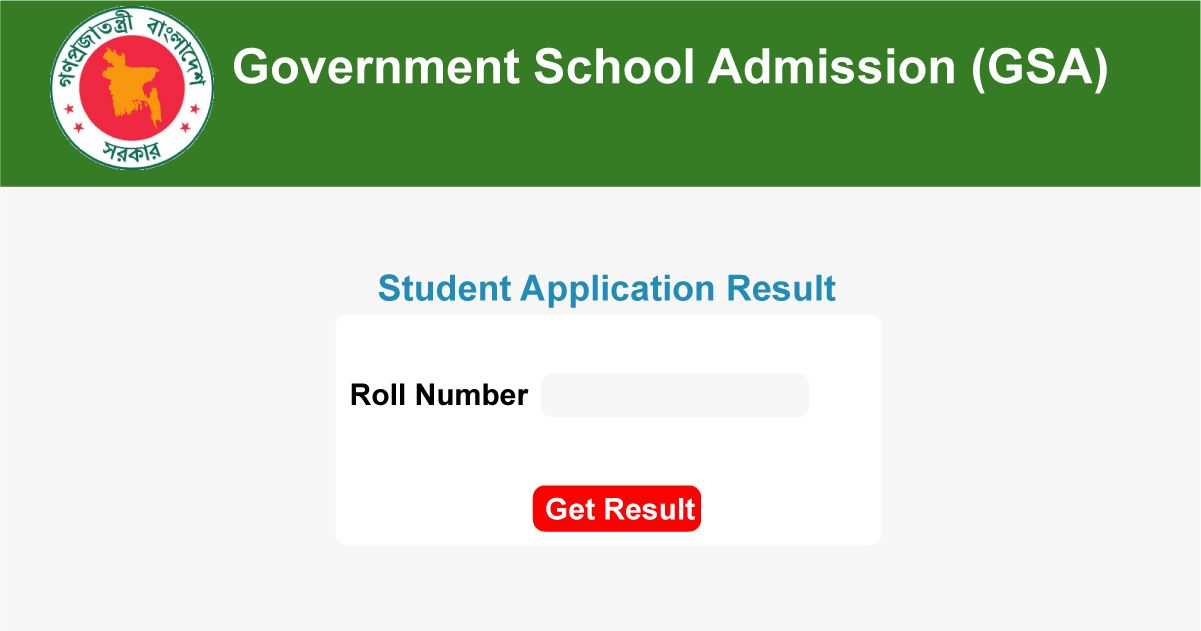 GSA Result 2022 www.gsa.teletalk.com.bd Result is The Government School Admission (GSA) 2022 Official Website. Ministry of Education Announce GSA Lottery Result 2022 on 15th December 2022. Now, Everyone Looking For GSA Lottery Result 2022. Around 5 lakh Students Applied For Government School Admission For This year. So, Students and Guardian pass a tough time For Waiting GSA Admission Result.
However, Non Govt School Admission Lottery Result are Going to Publish on 19th December 2022 at 10.00 AM. The Lottery Publishing Process Will be Start by Education Ministry Dr. Dipu Moni at Place Dhaka International Mother Language Institute. On December 15, Dhaka All School Admission Lottery Result Publish at www.gsa.teletalk.com.bd. However, Outside Dhaka Govt School Result Date and Details are not publish yet.
Let's Go To The Right Section in…
GSA Result 2022
Government School Admission Lottery Result Will Complete by Software Lottery System. So, This year Result Will Prepared within short time said Dr. Dipu Moni. Due to Corona Virus Situation, Education Authority Has been Decided not to take any Admission test for School Admission 2022. They Take Application by www.gsa.teletalk.com.bd and Result Will publish at same official Website.
So, When Authority Publish GSA Lottery Result 2022, The Server and Website Might be Slow or Down. Don't Worry, We are here For Provide gsa teletalk com bd Lottery result at Our Website.
GSA Lottery Result 2022
A Total Number of 386 Govt School Application at Complete by gsa website by Ministry of Education. Around 4 Lakhs 67 Thousand 324 Students Application For Govt School Admission. Ministry of Education Inform that around 5 lakh applications have been received for 60,000 vacant seats from first to ninth class.
Non Govt School Admission Result Will Publish 19th December
More details: Non Govt School Admission Result 2022
Waiting List Result are Below
The online application process has started and ended at the same time in all the government secondary schools of the country. So far around five and a half lakh applications have been submitted. Many have applied for multiple shifts in one school.
gsa.teletalk.com.bd Result Download
To find your School Admission Lottery Result, you need to go to the section titled Student Application Result and Click To Get Result and type in your roll number.
Go To gsa.teletalk.com.bd Website
Looking For Student Applicant Result Tab or Menu and Click
Provide Your Roll Number or Serial Number
Click Get Result button To Collect Result from Online
This is the same roll number you were assigned for your admission application. After you press submit, you should be able to see the Government School Admission Result.
GSA Admission Lottery Result 2022
We All Know GSA Admission Lottery Draw Will held 15th December 2022. Authority Announce Lottery Draw Will held on 15th December For Govt School Admission. They Also Declared That GSA Lottery Result 2022 Would be Published at gsa.teletalk.com.bd by at Night. However, We can say that Result Might be Publish at 5.00 PM
Whenever, School Admission Lottery Result 2022 Will Released, We Will Notify you. You Can also Download Result from Our Website. However, You Might Worried About GSA Admit Card. For Class One to Class Nine Admission, No Admission test Will Held. So, Students Will no Need to Admit Card. If They Get  Chance to Any School, they Just have to show the  confirmation result print page.