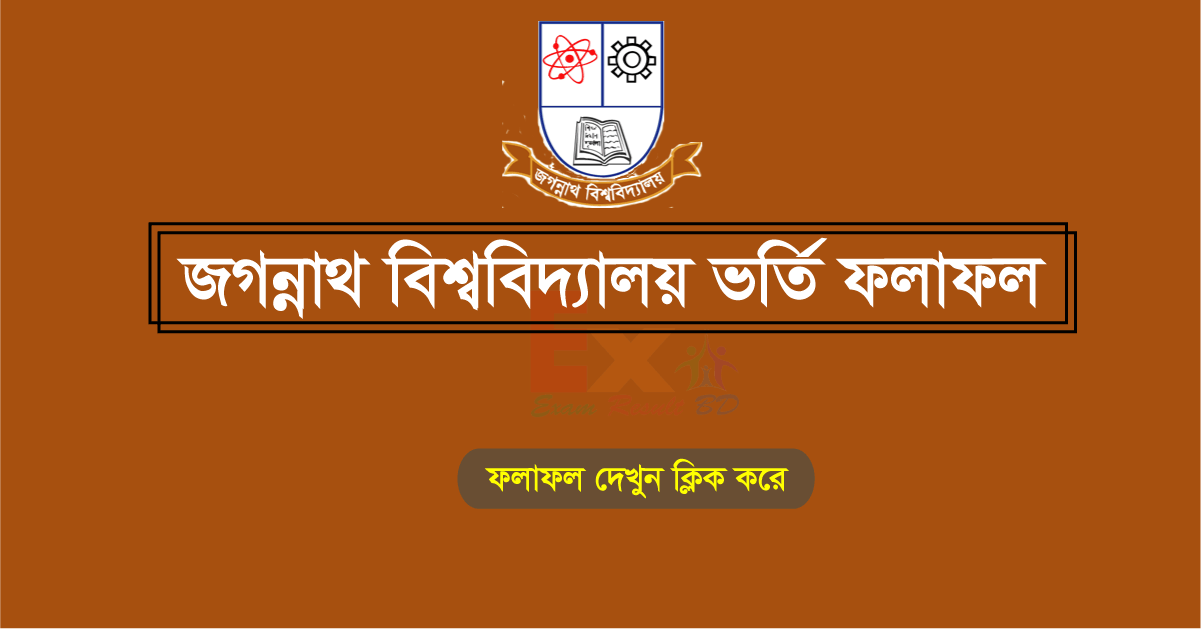 JNU Admission Result 2023 Will Publish July 2023 at admission.jnu.ac.bd. Jagannath University Admission Result 2023. JNU C Unit Result 2022-23 | Admission.jnu.ac.bd. JNU Admission Test Result 2023 Will be Publish couple of Days Later After Complete Each Unit Admission form fill up. If You Search For Jagannath University Admission Test Result For A Unit, B Unit and C Unit, Then Stay With us For Collect Admission Test Result. The Admission Test Result Will be Publish at Official Website admission.jnu.ac.bd. Students Can Search JNU Merit list Result by Online and SMS. So, Let's Find Your Admission Unit Result From below Instruction. Check JNU Admission Circular 202e by Click Here.
Let's Go To The Right Section in…
JNU Admission Result 2023
Admission Form Fill Up Will be Start From 20 June 2023. The End Date of JNU Admission form fill up Will be 27 June 2023. Admission Form Fill Up Instruction, The Way of Download Admit Card and Others Information Are provide below.
Jagannath University Admission Result Will Publish 3/4 Days Later After Complete The Admission Test. JNU Admission Result Will Publish Jagannath University Website. When The Authority JNU Publish Result, We Update here. The Latest News is JNU A Unit Admission Test Result Will Publish Soon. When The Authority Publish JNU Admission Test Result at admission.jnu.ac.bd, We Update Here.
Jagannath University Admission Result 2023
So, After Complete JNU C / Business Group Admission Test, You Will Find JNU Admission Test Result After 2/3 Days later. JNU Science Group Admission Test Will Held 14th September. So, you Might be Found Jagannath University Admission Result Few Days Later
Students Can Check JNU A Unit Result by Online. To Check JNU C Unit Admission Result, just Visit admissionjnu.info and Click Result Menu. Then Enter Your Application ID and Check Result.
| JNU A Unit Result | JNU B Unit Result | JNU C Unit Result |
| --- | --- | --- |
| Merit List Result | Merit List Result | Merit List Result |
| Waiting List Result | Waiting List Result | Waiting List Result |
Requirements for Final Admission:  Candidates have Bring Necessary Document For Admission
Main Certificates and Mark-Sheet of SSC & HSC.
Also Two photocopy Main Admit Card, Registration Card of HSC Exam.
Two photocopy Recently 4 Copy P.P Size & 2 Copy Stamp Size Color Photo.
Main Admit Card of Admission Test and
Two Photocopy Testimony of HSC Exam Institute
Admission Form (Collected From Depart)
Jagannath University Seat Plan:
JNU Admission Seat Plan 2022-23 For Science Group Will be Found September . Science Group A Unit Jagannath University Seat Plan Will Publish at Official Website. Students Will Also Get Jagannath University A Unit Seat Plan by Mobile SMS.
The Authority of JNU Will be Published Admission Exam Seat Plan Before 2/3 Days. When The Authority Published Seat Plan We Update Here. JNU A Unit and JNU KA Unit Admission Test Seat Plan Will Found Here. Jagannath University C Unit Admission Seat Plan Will Update below.
Jagannath University Admit Card Download
Applicant Will be get a SMS for Download Admit Card. A Color Photo & Signature Will need for download Admit Card. At Prepare Your Photo & Signature (Photo Should be 300×300 & Signature Should be 300×80 Pixel). Then Go jnu.teletalk.com.bd and Give Your User ID & Password and Upload Your Photo and Signature. Subject Select Form Will be Show After Upload Photo & Signature. Give Your Subject Choice. Then Submit and Download or Print Your Admit Card. You have to Print two Copies Admit Card For Exam.
JNU Valid Candidates List
The Authority of JNU Publish Jagannath University Admission Valid Candidates list For All Unit. Only Selected Students Will be Able to Sit Admission Test. So, If You Select or Appeared on JNU Valid Candidates list, Then Pay Your Confirm Application Fee Within .
Every Year More Than 2 Lac Students Apply For JNU Admission. But, There are only 2760 Seats Are Available For Jagannath University 5 Units. So, More than 80 Students Fight For Each Seats in Admission Test 2022-23.
You May Find Your Jagannath University Admission Result From Above Instruction. So, Share This Post About JNU Admission result if You Like. In Above We Also Provide The JNU Admit Card Download Instruction and Admission Test Seat Plan. Hope You Like This.