Admission Result
DU KHA Unit Result 2022 | Dhaka University B Unit Admission Result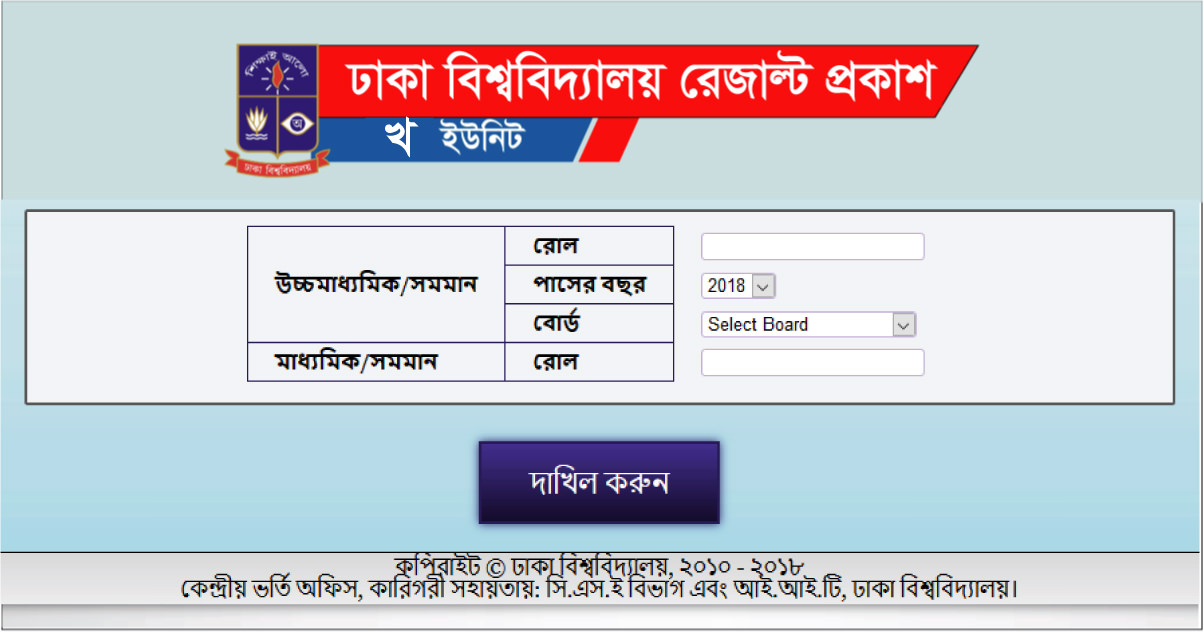 DU KHA unit Result 2022 । Admission.eis.du.ac.bd. DU B Unit Result 2022 Will Publish on 13th October at Official Website. A Large Number Students Participate The Dhaka University Admission Test For B unit. DU Kha Unit Admission test Circular Publish After HSC Result. The DU admission test Under 5 Units. KHA Unit is For Humanities Group Students. There are total 9 departments and different subjects have under Arts Departments.
Let's Go To The Right Section in…
DU KHA unit Result 2022
The Dhaka University B unit Admission Test For Academic Session 2022-21 Was Held on 2nd October (Saturday) 2022. The Admission Test Was Held During 1 hours from 10.00 am to 11.00 am. Now, Students Wait For Admission Result, Which Will be Announce on October after 5.00 PM.
There Are 2363 Available Seats in Total For KHA Unit Under Dhaka University. The First Year Honours Entrance Test Result of Dhaka University KHA Unit Under Academic Session 2022-21 Will be Published Monday, Said Dhaka University Authority To Examresultbd.com. DU Vice Chancellor Will Announce The DU KHA Unit Result Will Published 5th October After 2.00 PM at Administrative Building, Said a DU Press Release.
Dhaka University B Unit Result 2022
You Can Check DU B unit Question Solution by Click This Link. After Held Admission Test, We Publish DU Question Solution For Each Unit. KHA Unit Admission test taken by 1 hours for total 120 Marks and the question pattern is MCQ method. DU KHA Unit Result Will Published on 13 October 2022 after 1.00 PM. You Can Check Result From Below Instruction.

'খ' ইউনিটে পাসের হার ১৬.৮৯ শতাংশ। মোট উত্তীর্ণ হয়েছেন ৭ হাজার ১২ জন। রেজাল্ট দেখুন। ক-ইউনিটের রেজাল্ট প্রকাশ হবে আগামীকাল (৩ নভেম্বর) দুপুর ১২টায়।
DU KHA unit Admission Result
The First Year B unit Admission Result under Dhaka University Will be Publish October. Students Can Check Result from Online After Announce by The Authority. admission.eis.du.ac.bd is The Official Website Link To Check Dhaka University KHA Unit Admission Result. However, You Will Get B unit Result Merit list, Subject Choice notice, Viva Notice and Final Admission Details From here. Check DU KA Unit Result here.
Now, Follow Below Instruction To check DU Admission Result For KHA Unit.
After Click Submit Botton You Will Get Your Details. Now Check Your Desire Unit Result. or Visit
Click Login Button (Direct Result Link)
Give Your HSC Roll and Select Your Passing Year and Board
Next Give Your SSC Roll
and Finally Click to Submit Button.
DU KHA Unit Admission Result  SMS
If You Want To Get DU B Unit Result 2022-21 by Send Mobile SMS, you Can Do it. To Get Dhaka University Result 2022-21 Using Mobile SMS, Just Send SMS to 16321 Number With Write Proper Format SMS.
Dhaka University B unit Result SMS Format:
DU<space>unit<space>roll send: 16321
Exp: DU<space>KHA<space>roll send: 16321
Hope You Find DU Result 2022 Session. We Try to Provide Information How To Check Dhaka University Result 2022 by Online and  SMS. However, Do Comment if You Find Any Difficult To Get Dhaka University KHA Unit Result.