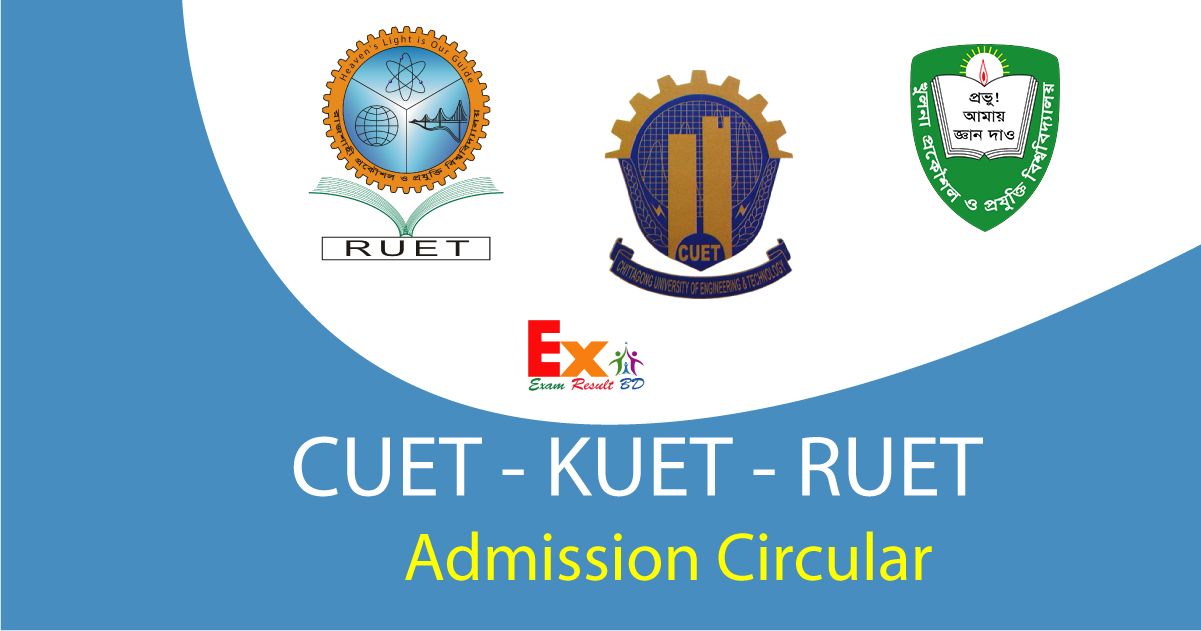 The Combined Admission test of Engineering & Technology University CUET KUET RUET Result 2023 for  Admission are going to publish Soon. So, Through this post you Can get the CUET KUET RUET Admission Result 2023 and Also the Official link to check result. However, the Authority Might be publish the result in pdf format or Individual result Through online Check System. www.admissionckruet.ac.bd is the Official website of Engineering Universities Combined Admission.
The Three Engineering University Admission Test Will Held on 17 June 2023. The Engineering and Technology University Admission Circular was issued on May, 2023.The admission application was received from the 10 May to 22 May 2023. Now, authority are taking admission test for KA and KHA Unit.
Let's Go To The Right Section in…
CUET KUET RUET Result 2023
The 2022-23 academic year centralized admission examination was take place on 17 June 2023. The Chittagong University of Engineering & Technology, Khulna University of Engineering & Technology, and Rajshahi University of Engineering & Technology are a part of the program.
To that end, After Conduct the Admission test, Authority are way to publish the Result very soon. The CUET KUET RUET Admission Result will be granted at their official website. They will publish further details with time.
Timeline
Online Application Start: 10 May to 22 May 2023
Eligible Candidates List: 03 June 2023
Admission Test: 17 June 2023
Merit List Result : 21 June 2023 [published]
How to Check CUET KUET RUET Result?
Three Engineering University Admission Result will be publish Within 23 August 20022. There are Few Process to Collect Result from the Official Website. Authority Might Publish the result through pdf file or They can provide you a link to Check Result by Applicants Details. However, are the details how to check result from online
Visit the admission website www.admissionckruet.ac.bd.
Enter the Result menu.
Check the Result with Required Information.
KUET CUET RUET Eligible List Result PDF
We have Also provide you the KUET CUET RUET Result PDF File to Check Merit List and Waiting List. Check below for the RUET CUET KUET Admission Test Result as PDF File.
The Admission results 2023 for the CUET, KUET, and RUET engineering universities are out now. This year, these universities will use a cluster system for their entrance tests. They will also handle all admissions together. The first group of students to get in will be from the merit list that has been published. After that, they will take students from the waiting list. Before all this, students must say which subject they want to study. If they are chosen, they will then pick their university and subject at the same time. The final decision on which university and subject each student gets will be based on how well they did on the entrance test and what they chose."
3 Engineering University Admission Result 2023
The three engineering & technology universities are the top-rated educational institution in Bangladesh. They offer various faculties like mechanical engineering, Electrical engineering, etc. Students interested in studying in one of these popular engineering universities must prepare themselves well.
The admission test is not so easy to pass. Although there will be many candidates attending the exam, only some of them will make it through. However, The Result Might be Publish Anytime once the admission test over.