Admission
Dental Admission Circular 2023 । dgme.teletalk.com.bd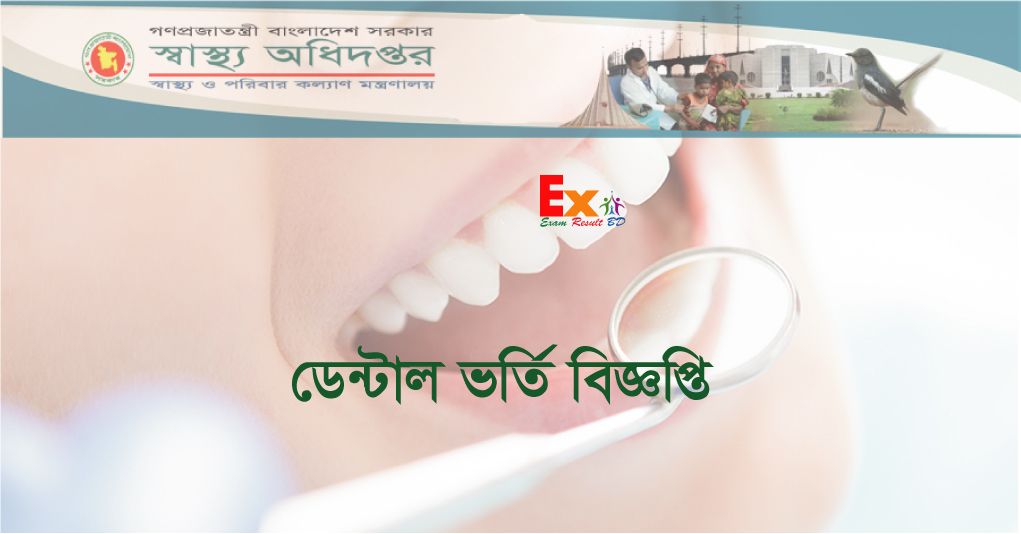 BDS Dental Admission Circular 2023 Check now at dghs.gov.bd. Check BDS Dental Admission Result 2023 which re Going to be Published Soon. BDS Denal Admission Test Notice Will be Publish For The Educational Session 2022-2023 at dghs.gov.bd. Bangladesh Medical Dental 1st Year BDS Course Application Form Will Found at dghs.teletalk.com.bd site. DGHS Medical BDS Admission Notice & Result 2023. The Authority Will Take Medical MBBS & BDS Exam Separately. So Medical MBBS Exam Will be 1st and Then Will be Held BDS Dental Exam.
Bachelor of Dental Surgery (BDS) Admission Result Published After Taking Admission Test on 5 May 2023. dghs.teletalk.com.bd is The Official Website For Publishing Dental Admission Notice and Others Related information. However, When The Authority Publish Dental Admission Notice, We Will be Update Here.

Let's Go To The Right Section in…
Dental Admission 2023
Dental College Admission Test Will be Basis on MCQ type Question. Medical Dental Admission Test Will be Held on 5 May 2023. The Authority Will be Published Dental College (BDS) Medical Admission Circular. Dental College BDS Medical admission test Circular 2023 for sessions 2022-23. Don't Worry you have to come right place about Medical Dental College BDS Admission 2023. Check Dental Admission Question Solution Here.
So, The admission tests for public and private dental colleges will be held on 5 May 2023, said an official on Thursday. Director of medical education at Directorate General of Health Services (DGHS) Prof Dr ABM Abdul Hannan confirmed.
The Authority Announce That Dental Admission Test Notice Will be Publish September by Daily Newspaper and official Website. If All Things Will Goes Right, Then Dental Admission Form Fill Up Will Start From 28 March 2023. Students Will Able To Fill Up The Application Form Within 8 April 2023. Candidates have To Fill Up Application Form Through Official Online Application Site at dghs.teletalk.combd.
Dental Admission Schedule:
Online Application Start: 28 March 2023
Online Application End: 8 April 2023
Admission Test Date: 5 May 2023

Dental Admission Result:
Admission Requirements:
Candidates must passed SSC or Equivalent in 2019 / 2020 and HSC or Equivalent (With Chemistry, Biology and Physics) in 2021 / 2022
For the general candidates must have minimum total GPA 9.0 in SSC and HSC or equivalent, minimum GPA 3.5 in each of SSC and HSC in Bangladesh & Foreign Education Program.
For all type of candidates GP 3.5 in Biology in HSC level.
Dental Admission Online Application

Applicants have To Apply Online and Payment have to Send Through Teletalk Prepaid Mobile
How To Apply Medical Admission
At First Go to www.dghs.teletalk.com.bd site. Then Give your Information and click Next. Fill up Your Application Properly. Now Upload Image and Signature. After Review Properly click Submit. Now Pay Application Fee by Teletalk Prepaid Mobile. SMS format are Given Below:
Please read instructions carefully before apply. Download Admission Circular
Signature must be 300 X 80 pixel (width X height) and file size not more than 60 KB.
Photo must be color with 300 X 300 pixel (width X height) and file size not more than 100 KB.
Monochrome, Black & White or Gray-scale photo or any image other than photo will not be accepted.
How To Pay Medical Dental (BDS) Admission Payment
DGHS User ID and Send 16222
Exp: DGHS FGLTGS and Send 16222
Reply SMS. You Will Get A SMS Along With Pin. Now Send 2nd SMS
DGHS YES PIN EXAM CENTER and Send 16222
DGHS YES 456321 15,16,22,40
Note: Please Select Exam Center Where you want to Seat For Exam.
Dental Result 2023
Medical BDS (Dental) Admission Test Result will Publish April 2023 You Can Collect Result From Our Site and Also dghs official site. Dental Admission Test Will be Held on 1st April. So, After Complete admission test, You have to Collect Result from Website. result.dghs.gov.bd is The Official Website For Publishing Dental Admission Result. You Can Check Your Admission Result by Online. Stay With us For Getting Information About Dental Admission Result.
However, According to the Directorate of Health Services, all medical and dental colleges in Bangladesh have around 8,500 seats. There are approximately 2,800 seats in 22 government medical colleges and 4,250 in 53 private medical colleges. The nine public dental colleges and the dental units of medical colleges have around 570 seats, while the 14 private dental institutes have some 900 seats.
Govt. Medical College: 22
Number of Available Seat: 2812
Non- govt Medical College: 53
Number of Available Seat: 4245
Available Seat of Dental Department: 567
Dental Admit Card Download
Therefore, You Have To Download Dental Admit Card by Using Your User ID & Password. After Complete Form Fill Up, You Have to Download Dental Admission Admit Card From 27 March. Candidates have To Download Dental Admit Card Within 30 March. After 30 March, You Won't Able To Collect Dental Admit Card From Online. So, Download Dental Admit Card Within Deadline.
The Dental Admission Circular 2023 Has been Published on dgme.gov.bd. Students Can Direct Get BDS Dental Admission Notice by visit result.dghs.gov.bd/bds link.