Admit Card
Agricultural University Admit Card 2023 – Seat Plan Download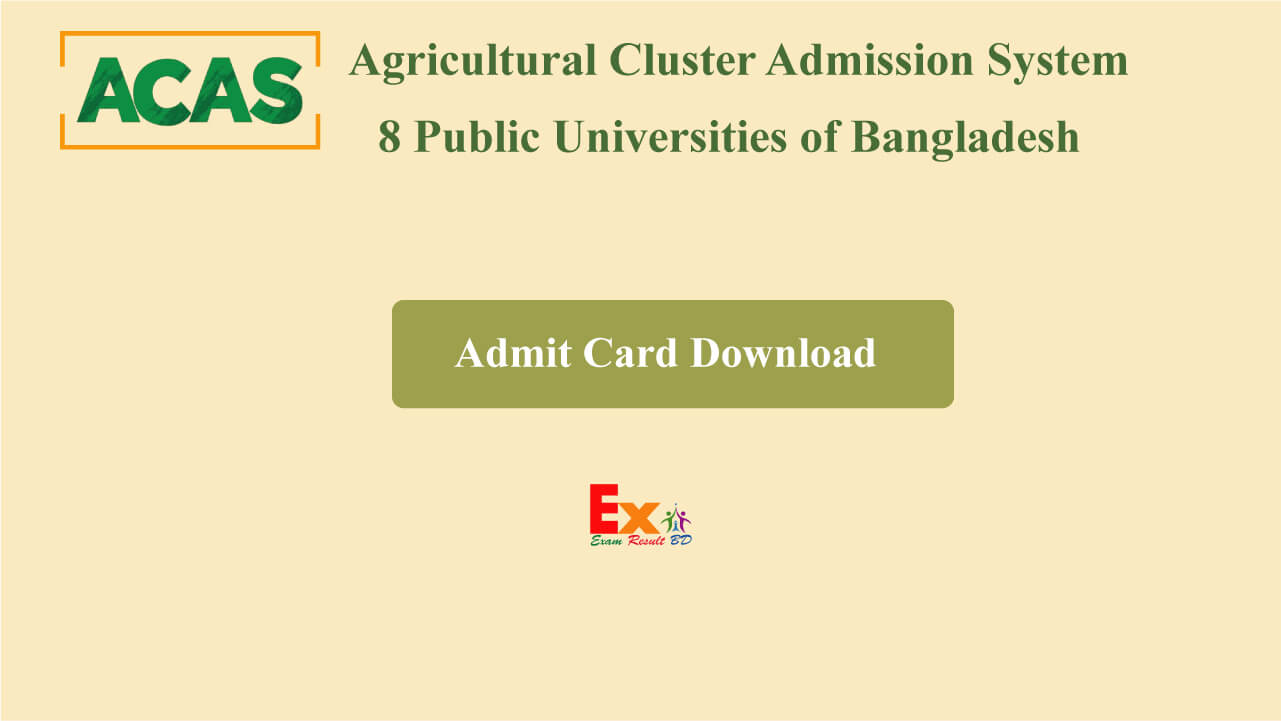 The Agricultural University Admit Card 2023 and Seat Plan can be download from acas.edu.bd site. Applicants can download their admit card at from 25 July 2023 on their official website of Agriculture University. Give your ID no. Then find your admit card. You just print it out. To Sit Admission Test for Agricultural Cluster Admission System, Students have to Download Agricultural University Admit Card 2023. You can download Agricultural University Admission  Test Admit Card 2023 PDF from acas.edu.bd Official Website. Students Who Complete Form Fill and Send Payment, they will able to download admit card. This year No shortlist will provide as all applicant can attend the admission test.
All the students who wish to participate in the admission test must collect the Admit Card of Agricultural Cluster Admission Test 2023 within the time limit set by the university.
Let's Go To The Right Section in…
Agricultural University Admit Card 2023
The 8 Agricultural University Admit Card Download has been Started from 25 July 2023 for The Integrated Admission Session 2022-2023. All Candidates can collect admission test admit card from university admission website acas.edu.bd.
Students can Download Admit Card from 25 July 2023 to till before the admission test. The seat arrangement of the candidates has been published on the cluster admission website on August 1. It is to be noted that the admission test for agriculture group will be held on August 5. The exam will be held from 11:30 AM to 12:30 PM on this day.
কৃষি গুচ্ছ ভর্তি পরীক্ষা অনুষ্ঠিত হবে ০৫-০৮-২০২৩ তারিখে।ভর্তি পরীক্ষায় অংশগ্রহণের জন্য প্রবেশপত্র ইস্যু করা হয়েছে।
To Download the Agricultural University Admission Test Admit Card, follow the simple steps below.
Step-1: Visit the admission website acas.edu.bd
Step-2: Go to the Sign in Option.
Step-3: Login with your PIN and Password.
Step-4: Download the Admit Card from Dashboard.
Agricultural University Seat Plan 2023
Agriculture cluster admission exam seat pattern and center list has been published. 1 August 2023, The seat allocation list is published on the admission website on the date. From the link below you can see the seat pattern of the batch admission test.
Full Details of Agricultural University Seat Plan: Download PDF File
Agriculture University Mark distribution
It is important to know the mark distribution. Because if you know the marks distribution you can prepare yourself properly. So heres the details-
Total number is 200 (100+100 = MCQ+GPA).
Total time for the exam is 1 hour.
So there is 100 question and each question contains of 1 marks.
For every wrong answer it will cut 0.25 marks.
General Knowledge -10
English -10
Physics -20
Chemistry -20
Math -20
Biology -20
Total -100 marks
100 marks = GPA- HSC result × 12 and for SSC result × 8
It is said that about 79 thousand 147 people will participate in the entrance exam this year. The country's eight agricultural universities have a total of 3549 seats. the