NU Honours 4th Year Result 2017. Honours 4th year Exam Result 2017. The Authority Was Take Honors 4th Year Exam at October 2017. Honors 4th year Exam for Session 20012-2013 (Regular) and Irregular. The Honors 4th year Regular, Irregular and improvement examination Was start from August, 2017. Honours 4th year Exam Result 2017 update Information Will Publish Below. So, Find When Will Publish 4th Year Result From Below. You Will Find All Information of 4th Year like ah to Oh! Recently, The Controller of National University Confirm That, Honours 4th year Result 2017 Will be Publish Last Week of February 2018. So, Here You Will Find The Honours 4th Year Exam Result For Academic Year 2016 and Session 2012-13.
The 4th year Exam Was Started From 23 August 2017 and The Exam Continued Up to 15 October 2017. But Few Days Later, The Authority Take Practical Exam. Probably The Practical Exam Was Complete November 2017. So, Honours 4th Year Result Will Publish January 2017. Click For NU Honours 4th Year Routine Update Information
More Than 1 Lakh 35 Thousand Students Appeared The Honours 4th year Exam. The Exam Held in 140 Centers at 205 College. Authority Will Publish The Honours 4th Year Result 2017 Very Fast Because of Crash Program of National University.
NU Normally Take some time to publish result. At this moment NU Publish result After 3 / 4 Months of Completed Exam. After 90/120 Days of Complete Exam, The Authority Published Result. But NU Authority Declared a time line for publish result from next All Academic Exam.
Result Has Been Publish
দ্রুত রেজাল্ট ও ভর্তি বিষয়ক তথ্য জানতে আমাদের গ্রুপে জয়েন করুন
গ্রুপ লিঙ্কঃ https://www.facebook.com/groups/examresultbd/
You Can Check Honours 4th Year Final Result 2017 as Well 4th Year Result From The Official Website at www.nu.edu.bd/results or nubd.info. After 4th Year Result of Honours, Students Can Apply For Masters Admission.
When Honours 4th year Result Will Publish?
The Question Answer is Very Critical. According To Previous year Result Publish Time After Finish Exam. We Can Say That Result Will Publish within 100/120 Days After Compete The Practical Exam.
So,
NU Honours 4th Year Result 2018 Will be Publish 17th February 2018

National University honors 4th year Result Will Publish 4.00 PM by SMS and 6.00 PM by Online
Click Here For How to Calculate NU Honors Exam Result GPA
National University Honours 4th year Result

Normally National University take some time to published result. Generally National University Authority published a exam result after four (3) months of complete exam. #Examresultbd.com Bangladesh largest Educational News Portal Site In Bangladesh. We Published All Kind of Education News such as Admission, Form Fill Up Notice, Routine, Result and Others Information
Updates About NU 4th Year exam result:
According To Grading System, National University Published Honours 4th year Exam Result Based on Grading System. But a large Amount of Students Failed to Full Fill The Grading System Result. So, Students Who Passed All Subject excepting 1 Subject, They Get Trouble to Promote Next Education System. In this Situation The Authority Take Decision To Give 5 Marks Graze For Those Students. So New Result Published According to new System. See Result From Below
How To Get Honours 4th Year Result by SMS:
Honours 4th year result can be check on mobile by SMS. Students can use all mobile operator but Teletalk is best for getting result. SMS format is described bellow
NU<space>H4<space> Roll / Reg No send to 16222
NU Honours 4th year Result 2017 nu.edu.bd
Applicant can check result in www.nubd.info site. Click fourth year and enter Your Roll Then Search Result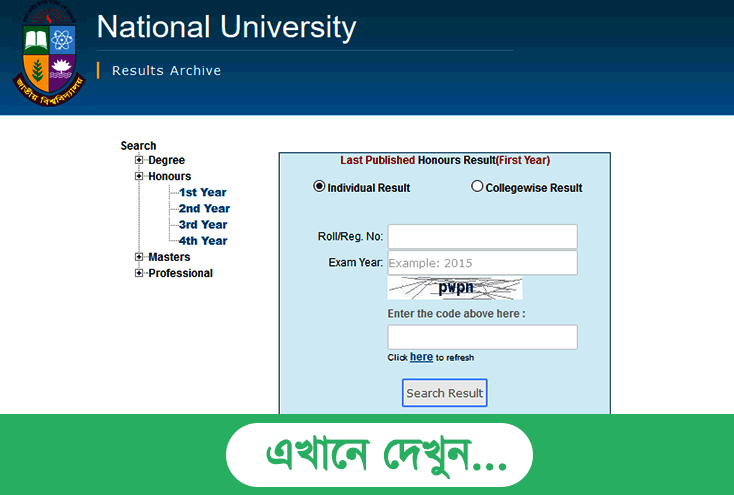 Click Result From Alternative Link
Honors 4th Year Exam 2015 Mark Sheet. If You Want To See Your Mark Sheet. Please Follow Below Instruction
Type Your Browser like this: www.nubd.info/204/exam Year/college Code/roll

Example: www.nubd.info/204/2014/5601/1234567
Now Just Press Enter and See Your Total Mark Sheet
NU Honors 4th Year Result Recheck Apply
National University Honors 4 year Exam Result Re-Scrutiny Apply. National University honors 4th Year Exam Result Has Published. Now NU Authority Announce a Notice About Result Re Check. NU Honors 4th Year Exam Result Check Application Will be Complete by Online Method.  Students have to Apply Within …………….. 2017. Application Will Not Accept After Deadline.
So, You May Get All The Information About
NU Honours 4th year Result
and Next Step Instruction. We Hope, You have no Question About National University Honours 4th year Result. Join Our
Facebook Page
and Get latest Update and Get help By Comment