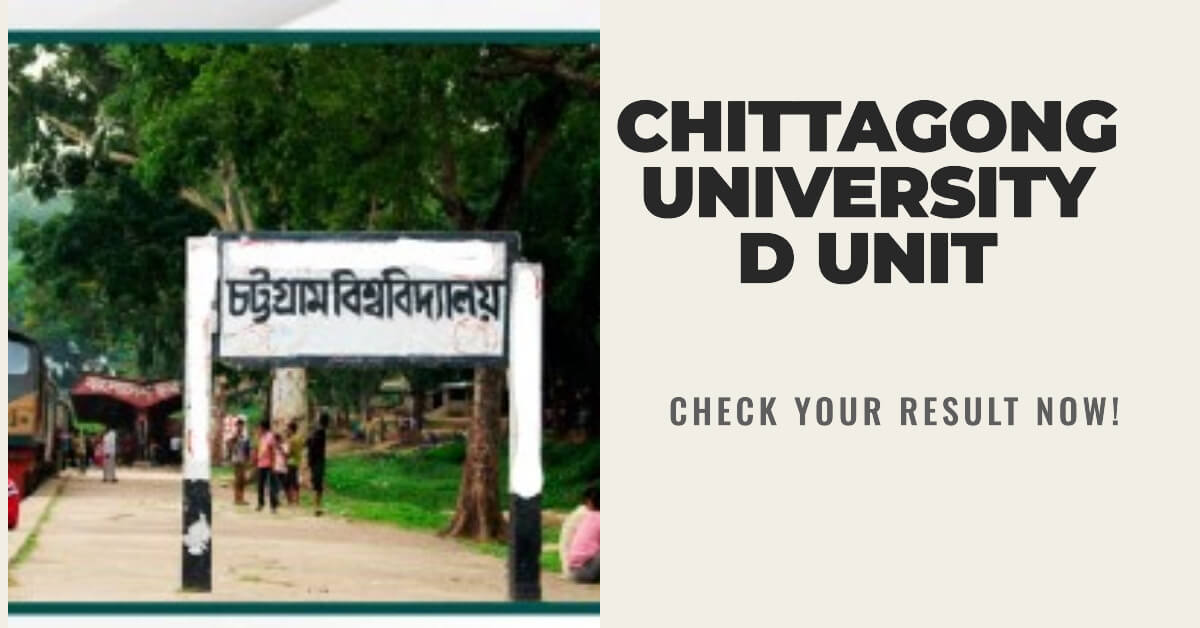 The Chittagong University D Unit admission result 2023 is going to publish on 27 May 2023. Chittagong University one of the top educational public university in Bangladesh. Admission Official website admission.cu.ac.bd scroll a notice that D unit result will be publish on 27 May 2023. The Highest number application 50,153 was applied for D unit Admission Test.  D Unit Has 1157 Seats To Admission. So, For Each Seat 43 Applicants Competing Per Seat.
The CU B Unit admission result for Chittagong University, usually gets announced on the university's official website, and students across the country eagerly await this crucial update. Known for its academic excellence and competitive selection process, the admission result is indeed a defining moment for many young minds.
Let's Go To The Right Section in…
CU D Unit Admission Result 2023
Each year, thousands apply for various programs at this prestigious institution, and only a select few make the cut, thus making the release of the Chittagong University admission result a significant event. Students can find the result by entering their application ID or roll number in the designated area on the result page.
Chittagong University in Bangladesh is a popular choice for many students. Each year, lots of students take part in the CU admission exam, hoping to study at this top university. Like before, many students also took the exam this year, especially for the CU D unit.
The CU D unit exam is now over. So, all students who took this exam are waiting to know their results. In this article, we will talk about the CU D unit result and how you can check it.
To see your result, you need to go to the official Chittagong University website. This is where they put up all the results. You will need to know your roll number or application ID to check your result.
| Result Type | 1st Phase1 | 2nd Phase | 3rd Phase | 4th Phase | 5th Phase |
| --- | --- | --- | --- | --- | --- |
| D Unit Result PDF | See PDF | See PDF | See PDF | See PDF | See PDF |
| D1 Unit Result PDF | See PDF | | | | |
How to Check CU D Unit Result?

The D Unit Admission Test Result for Chittagong University is set to be announced on 25/05/2023. Students who have appeared for the exam should make sure to check their results at the scheduled time. The results for the D Unit General Seat will be available through the link "admission.cu.ac.bd". Clicking this link will allow students to view their results.
For more detailed results, candidates can log into their profiles at a later time. This will provide a comprehensive view of their performance in the admission test. Remember to have your roll number or application ID ready when checking your results. Stay connected for more updates and best of luck with your results.
Visit admission.cu.ac.bd website.
Go to the Login Option or Click Result Tab
Enter Your Roll Number and Select Shift
Now, Click the Get Result button
Check your Result from the Dashboard.
D Unit Result PDF Download
Students have to download primary selection result pdf file. Authority will announce the result through Chittagong University ICT cell website. Downloading the result PDF file from the ictcell.cu.ac.bd website is a simple process. Here are the steps you need to follow:
Open your internet browser and go to the official website: ictcell.cu.ac.bd.
Once you're on the website, click for the 'Results' section.
In the 'Results' section, look for the 'D Unit Admission Test Result' link, and click on it.
Click 'Download Button as says' or similar button. This button is usually located near the result details.
Click on this button. The PDF file of your result should automatically start downloading.
CU D Unit Result by SMS
By following the instructions below, you can check your CU D Unit admission test result through your mobile phone:
First of all, you have to go to the SMS options on your mobile phone.
Now, you need to type CU <Space> R <Space> Unit Code <Space> Roll Number.
Then, you have to send it to 9934.
Example: CU R D 638725 and send to 9934
We hope this guide has provided you with the information you need to check your CU D Unit result and to download it from the official website. Remember, the result is scheduled to be announced on 25/05/2023. Chittagong University is one of Bangladesh's leading educational institutions, and securing a seat here is indeed a commendable achievement.
Regardless of the outcome, it's crucial to remember that this result is just a stepping stone in your academic journey. There are numerous opportunities awaiting you. Stay dedicated to your goals, keep learning, and always strive for success. Congratulations to all students on their hard work and good luck with your results!